Designers of the year for sustainable collections
These designers have dedicated their designs and collections to the increasingly important topic of sustainability, use sustainable materials and produce in Germany.
SO THEY CAN SAY THEY KNEW "NIX"!
The company NIX Design has been active as a sustainable label for 30 years, doing real pioneering work in the fashion industry. The design team around founder and owner Barbara Gebhardt develops a small, fine, complete collection for women for each season. Today, NIX fashion stands for feminine understatement with urban charm.
The jury's reasoning
The aspect of sustainability and transparency is part of NIX's philosophy, as are functionality, durability and a long-lasting design.
The high fashion competence and balance of the collection for women reflects the core statement of NIX Design "clothing, sorted and consciously selected is the most sensible measure to conserve our resources." NIX Design produces in moderation, is a training company, repairs worn models from past collections and offers a return system in the second-hand project. The seasonal range is versatile and easy to combine. The look is clear and
well thought out.
The coherent, comprehensive overall package and the many years of pioneering work for sustainability in the fashion industry of the Berlin label NIX Design convinced
and inspired the jury all along the line! NIX Design receives the Design Award Sustainable Fashion by VDMD 2023 - 1st place.
IT'S THE HUMAN GAIN THAT COUNTS, NOT THE MONETARY GAIN.
The company Manomama started in 2010 as the first social business in the textile industry and today manufactures ecological clothing & bags within a unique, regional value chain with over 120 people in its manufactory in Augsburg. Maximising humanity instead of maximising monetary profit is the top maxim of owner and
founder Sina Trinkwalder.
The jury's statement
The jury honours the entrepreneur Sina Trinkwalder and her company Manomama with the special award (powered by NEONYT) presented for the first time by the VDMD.
Ms Trinkwalder's great commitment in her company to produce clothing for people in Germany according to ecological and social aspects, convinced the jury. Especially the inclusion of inclusion, participation of disadvantaged fellow human beings and the philanthropic, respectful and thus dignified cooperation that is lived and cultivated in her company impressed them.
"The Manomama company is a beacon in the sustainability scene of the industry. Ms Trinkwalder brings everything to the table that the jury envisages sustainability in the industry. She focuses her attention not only on the production of fashionable products that do not harm our environment, but above all on the people who work for them. This high level of social commitment is remarkable. Sina Trinkwalder shows that fair, sustainable "doing business" can also be done differently. Sustainable, for people, with people. Her company is groundbreaking, also for the future of Neonyt. We congratulate Tina Trinkwalder on the special award for social and sustainable behaviour 2023.
Based in Lausanne, Switzerland, Mover Plastic Free Sportswear, owned and managed by Nicolas Rochat, specialises in the manufacture of plastic-free thermal regulation and protective sportswear. His company Mover Plastic Free Sportswear (formerly Mover) was founded in October 2021 and is the result of a decade of research and development using natural fabrics. The aim is to gradually replace synthetic options in "technical clothing". Today, 99 per cent of the entire sportswear market is made of plastic.
Mostly, the reason for this is the cheap production costs. Nicolas Rochat is convinced that it is time to propose an environmentally friendly alternative.
The jury's reasoning
Owner and entrepreneur Nicolas Rochat relies exclusively on the use of natural fibres such as merino wool for his sportswear and also developed a revolutionary insulation material made of wool together with a German fleece manufacturer. He proves that highly technical ski and sportswear is possible without plastic (polyamide/polyester). Currently, Nicolas Rochat is involved with the NGO aplasticplanet.com to raise international awareness about microplastic pollution, which is closely linked to extreme sports and high performance. It also aims to sustainably encourage the world's creatives to design a plastic-free world.
The move away from the use of crude oil-based fibres in sportswear towards natural fibres is groundbreaking. Nicolas Rochat shows how important inner attitude and conviction are to be able to bring about sustainable change.
His tireless guiding principle and corporate philosophy "away from plastic" and "everything that can be produced without plastic should also take place without plastic" and his commitment beyond his own company inspired the jury and earned Nicolas Rochat the Design Award Sustainable Fashion by VDMD 2023 - 2nd place.
Anna Karsch und
Michaela Wunderl-Strojny
WE WANT TO HAVE A REAL CHOICE!
Since 2012, the two akjumii designers Anna Karsch and Michaela Wunderl-Strojny have been focusing on maximum sustainable high fashion with an avant-garde touch. With their latest offering of a 3IN1COAT, the visionaries have developed a sustainable garment that can be worn as a coat, a waistcoat and a jacket. Interchangeable add ons and collars allow for customisation. A free repair service is also offered to ensure a long service life. Production takes place in Germany.
The jury's reasoning
With the 3IN1COAT collection Akjumii offers a coherent, clear and well thought-out design concept. The designer duo has succeeded in developing a garment that is that, thanks to its multiple uses, further enhances the aspect of sustainability. The fashionable accessories (add ons) also stand for a unique fashionable longevity. "The duo interprets fashion and design unconventional and new. Clear and unapologetic, the Coat offers wearability as a coat, waistcoat or jacket. Ever new accessories allow individual looks to emerge. This is innovative, creative and trend-setting!
"With the Coat, Akjumii very elegantly fulfils the "less is more" demanded in the sustainability debate without sacrificing the fashion aspect. The high level of transparency in production, fair treatment of people, resources and the environment as well as the outstandingly coherent and fashionable Coat impressed the jury.
Congratulations on the Design Award Sustainable Fashion by VDMD 2023 - 3rd place.
On 25 June 2022, Michael Spitzbarth (bleed clothing) was awarded Designer of the Year for sustainable collections by the VDMD, together with Messe Frankfurt in the Union Halle in Frankfurt.
The label was founded in 2008 by local and skateboarder Michael Spitzbarth, who worked as a freelancer for various clothing companies for several years after completing his studies in textile design.
During this time he got a good insight into the textile industry, which is why it was clear to him that something had to change.
Nature had bled enough and it had to stop.
And so not only the name but also the brand was born.
His goal, then as now, was to get people of all ages onto the green wave through good style and without pointing fingers.

bleed - 100% ECO, 100% FAIR, 150% YEAH!
Laura Krettek lives and works in Leipzig. In 2016, she completed her master's degree in fashion design at the "Hochschule für Angewandte Kunst Schneeberg".
During her studies, she completed several internships in Budapest at the "National Theatre of Hungary" and discovered her enthusiasm for elaborate costumes. Due to her high affinity to science fiction films, she likes to deal artistically with such silhouettes. work. Her greatest passion is therefore also the development of new surface experimental fashion design. Through her interest in unusual techniques, materials and phenomena of this world, she always comes up with unusual creations.
With a penchant for the unusual, she already developed a progressive avant-garde collection in Borås (Sweden) in 2014, at Högskolan i Borås, which by means of simulated skeletal structures, reflects the rebellious character in her fashion. Threat and elegant at the same time, material and structure emerge in her work. Her methods are conceptual and interdisciplinary. Going beyond the boundaries of fashion, she resolutely pursues progressive paths in surface design, textile production, fashion tech and craft.
Fashion designer and architect
For the artist Anke Frese-Brammer, clothing is worn architecture.
She not only presents her images, which she photographs as forgotten or quiet corners, as well as objects or animals worthy of protection, in frames, but also puts them on clothes and bags.
Following the example of the COUNCIL for ART and DESIGN, she wants to bring art to the streets, ART.TO.GO. Everyone should give their SEEING a new direction and not only focus on what is obvious.
The award was presented on Friday, 25.10.2019 by Prof. Dr. Günther Bachmann, Secretary General of the German Council for Sustainable Development, Gabriele Schulz, 2nd Managing Director of the German Cultural Council, René Lang, President of the VDMD
and the Leipziger Messe.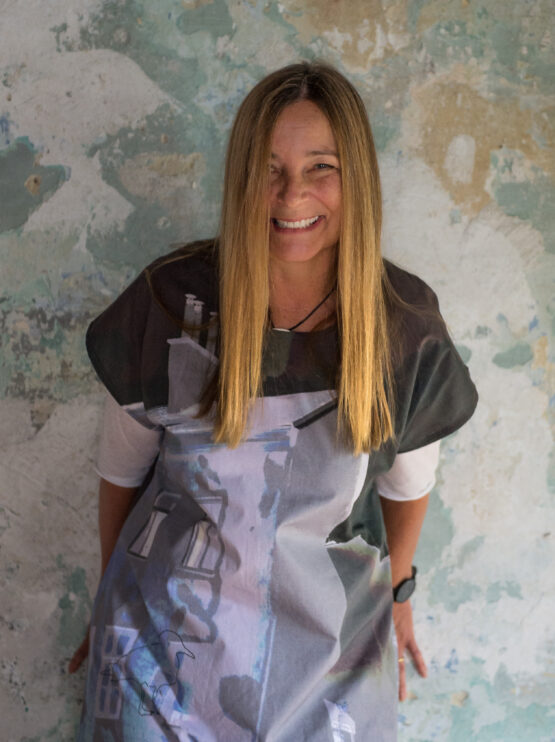 We presented Sophia Schneider Esleben with this award on the opening evening of the Designers Open 2018 in front of 1,000 guests by our President René Lang, the Designer of the Year 2018 Doris Hartwich and the Project Director Desingers Open Ulrike Lange.
Sophia Schneider-Esleben has already won several awards with her sustainability label, including the Silver A'DESIGN Award and the DA'C World Leadings Desinger Award. She was also nominated for the Green Heroes Award 2018. During the Designers Open (26 - 28 October 2018), she showed her latest collection at the VDMD stand G36 in the large hall of the Congress Hall at Leipzig Zoo.